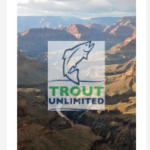 During the week of 18 June club members are going to the White Mountains. Norm Humphrey from the Prescott area is organizing the trip. Below is some information on the trip from Norm. For more information please email Norm at humphreynorm@gmail.com.
The clubs White Mountain trip is coming up in mid June. We will be mostly at the Hoyer Campground in Greer Az. Our arrival times can vary but we are planning a potluck dinner the evening of Wednesday June 20TH. There are three lakes across the road from the campground and the Little Colorado River runs through town. Becker Lake in Springerville is about fifteen miles away it's a catch and release lake with good size trout in it.
Hoyer Campground doesn't have hookups, but does have fresh water, dump station ,clean showers and restrooms. They have plenty of sites that are for drop ins only, and if you arrive Sunday thru Thursday it's easy to get a space. If your want to make a reservation though the number is (877) 444-6777. The camp host number is (928) 333-6200 they don't take reservations there though. Cabins and rooms plus some restaurants are available in Greer.
If you want more info call me at (928)-445-2334 . You can reach me at that number during the trip about getting together for day outings and the potluck location. There isn't phone reception at the campground but you can get a signal at Tunnel Reservoir, it's right across from the camp, about a quarter of a mile. Leave me a message and I'll answer with a message to you. I'll leave our site number on the board by the office and you can do the same.
Norm
Kind regards,
Neil Warner