Local Contacts Create Regional Impact
Linda McAteer, Zane Grey Chapter Diversity Chair, Arizona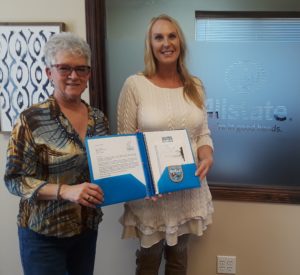 As the work to launch the STREAM Girls program in Arizona gained momentum, my focus
turned to finding the funds to get it off the ground. During our annual planning meeting, one
of our board members mentioned he had heard that the Allstate Insurance Company has
some sort of grant program. I have Allstate insurance, so I called my agent. The result was
more than I expected. Allstate agents have two funding programs to draw from. One is a
large grant, but the agent, or one of her employees, must be an active participant in that
charity to qualify. The other program is at the agent's discretion and, although it's a smaller
grant, it's the agent's prerogative to grant those funds. Luckily, I've been with the Sheri Shull
Agency for over 10 years, and my agent is a former Girl Scout leader herself, so when I
called her she agreed immediately to cover the printing costs for our Train the Trainer event,
and our first Girl Scout Camp event.
With that covered, I was still looking for the funding to cover all the streamside materials
needed for the program. That's when I got an email from John Doss, our chapter's
communications person and a member of the Arizona Fly Casters. John had arranged a fundraiser for STREAM Girls during the December AFC monthly meeting. Together with Cinda Howard of Fly Fish Arizona guide service, John put together special raffles for guided trips, a gear raffle, and a Christmas gift raffle. That evening the AFC raised $400 for the STREAM Girls program. We now have enough funding to cover our first two events, and to begin discussions with other Girl Scout and TU chapters to bring STREAM Girls not only to
Arizona, but to Colorado and New Mexico, too.
For more information on the STREAM Girl program, visit tu.org/streamgirls