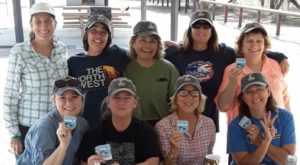 On February 16 -17 ZGTU launched the STREAM Girls program in Arizona.   The program is designed to "Empower Today's Girls to be Tomorrow's Leaders".
Led by Linda McAteer, ZGTU Diversity Chair, volunteers met for "Train the Trainer" to familiarize the leaders with the program.
Extensive training is provided to Trout Unlimited and Girl Scouts of America volunteers to focus on the planning and techniques needed to conduct successful events and on assisting girls on the water during future events.
The next training for leaders is March 9 – 11 at the Shadow Rim Ranch Girl Scout Camp in Payson.   This training will be for Girl Scout leaders from across Arizona.  ZGTU volunteers are needed to demo basic fly tying sessions on Saturday and basic fly casting instruction on Sunday.
Please contact Linda McAteer at 
lmcateer60@gmail.com
 for more information if interested and helping with this program.
STREAM Girls Leaders
Front Row (L to R): Sara Westfall, Barbara Stratton, Cyndi Ruehl, Kay Cameron
Back Row (L to R): Chris Newell, Michelle Balfe-Keefer, Yolanda Edwards-Guerra, Vi Hilman,
Caitlyn Hollins