Another great trip to Casper,Wyoming and enjoying Grey Reef Anglers. The weather was typically unpredictable. Ninety degrees on our first day and a big rain storm the 2nd day.  Eleven of us meet up and  a couple of very nice guys from Nebraska.   So the party of thirteen was just about the right size to maximize the social aspects of the trip.  We had plenty of time to get to know everybody.  three pilots, two doctors, two Rock n Roll stars and the rest of us were just your regular run of mill fishing nerds.  Geographic breakdown:
2 from Nebraska
1 from Denver
1 from Tennessee/Phoenix
2 from Sierra Vista
8 from Phoenix
All were TU members
7 AFC Members
We offered a Fly Fishing Film tour presentation after dinner on the big screen.  Lots of fun.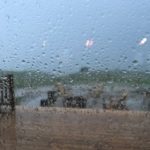 On the first day, we had good fishing on the Grey Reef. Little Hot (ninety degrees).  Ken Richter was the Brown, striping flies king.  Poor Ken Wade had a tough day on day one, but don't feel to sorry for him.  days 2 thru 4 he smoked  'em.  Ken stayed over a couple more days after we all left.  We all caught a few fish.
Day two was full of excitement.  On Grey Reef and at the lodge the skies dropped a ton of rain, buckets would be a better phrase.  Many cut day two short due to the heavy rain but I think everybody caught fish.
On the second day a few of us were lucky enough to travel up to the "Miracle Mile" where the clouds were dark, but our guide Andy, (Moses of fly fishing), parted the skies and the rains went around us.  Actually, the last few hours were by far the most productive.  Ken Richter and I had three straight doubles and between the 2 of us we caught pretty close to 20 fish, but to be honest I lost count.  Fish sizes ranged from 18 inches to 22 and half,  man are they health.
Testimonials:
From Fred Johnson
I had a great time getting a thorough education in river float nymphing. Also the accommodations, food and fellow fishermen were all superb.
That's Dick Walton and then myself.
Thank you and TU.
From Jim McClenathan
Thanks for arranging the trip

I loved the discourse with a great bunch of fellows.

Rick and I had a good time

Wish the catching was better but that's fishing

Feel free to use pics or video if you can

Hope they do not clutter up things

Can I have your cell and I will send videos as a text
From Denny Johnson
Hi John–

Thank you …for your tireless leadership for the trip…..even with

a body that was 'out of sorts'. Yes, I certainly would be interested

in the San Juan next March. Let me know if Frank would be welcome

as well…..You may…or may not recall that his daughter and family

live in Peoria. Is that enough to get him a 'maybe'?

PS The entertainment that you provided…was fabulous!
From Ken Wade
Hi John,
Thank you for arranging the trip.  Great fun.
One of the guides got me interested in the Upper North Platte River.  Many smaller streams.l, but some drift boat fishing as well.
Thanks again!
From John Doss
This is my 6th trip to Wyoming, and it was the most enjoyable.  

Thanks to all of you for your participation.